Our faculty was founded in 1962 by Murat BARIŞTIRAN under the name of Istanbul Private Dentistry Collage. By the proposals from the inspection team, formed by professors from Istanbul University, Prof. Dr. Sadi IRMAK, Prof. Dr. Sıtkı VELİCANLIGİL and Prof. Dr. Suat İsmail GÜRKAN, our faculty transferred its operations in November 1963 to a new building in Şişli. As the first principal of the school, Prof. Dr. Suat İsmail GÜRKAN took office.
In 1965, Istanbul Private School of Dentistry moved to its new building in Nişantaşı and gave its first graduates in this building. Between 1965 and 1972, Assoc. Prof. Dr. Oğuz BAZ took charge as principal. With the school regulation changed in 1969, the period of study was increased from 4 to 5 years and the internship system was implemented.
On 9 July 1971, the school was nationalized with the law numbered 1472, and it was affiliated to the Istanbul Academy of Economic and Commercial Sciences and its name was changed to the School of Dentistry. Between 1972 and 1978, Prof. Dr. Suat İsmail GÜRKAN was appointed as principal.
Since 5 August 1976, the Education and Examination Regulations Istanbul University Faculty of Dentistry have been accepted and the education system has been updated. On 15 February 1979, Prof. Dr. İlhan ÇUHADAROĞLU was appointed as principal. Between 1979 and 1980 Prof. Dr. Cengiz OKTAY, between 1980 and 1981 Prof. Dr. Faruk OR, between 1981 and 1982 Prof. Dr. Bülent BAŞARAN served as principals.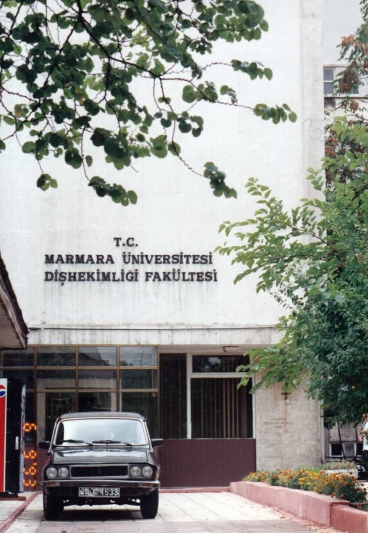 The School of Dentistry, which is affiliated with the Istanbul Academy of Economics and Commercial Sciences with the Higher Education Law numbered 2547 enacted on 6 November 1981, was connected to Marmara University, which was established on 20 July 1982. It continued its education as a brand new institution under the name of Faculty of Dentistry. In September 1982, Prof. Dr. İlhan ÇUHADAROĞLU was appointed as dean. Between 1982-1992, Prof. Dr. İlhan ÇUHADAROĞLU, between 1992-1998 Prof. Dr. Nesrin EMEKLİ, between 1998-2001 Prof. Dr. Övün GÜVENER, between 2001-2004 Prof. Dr. Funda YANIKOĞLU, between 2004-2007 Prof. Dr. Selçuk BASA, between 2007-2010 Prof. Dr. İlknur TANBOĞA, between 2010-2014 Prof. Dr. Mahir GÜNDAY served as deans. In 2014, Prof. Dr. Yasemin ÖZKAN was appointed and still continues to work.
In 2015, Faculty of Dentistry moved to its new building in Marmara University Başıbüyük Health Campus, where it currently operates, and continues its activities in 20,000 m2 area.